(Version française plus bas)


Your Rennes SB mailbox is protected by Microsoft security mechanisms which can quarantine emails deemed dangerous or unwanted.
These mechanisms can report false positives, that is to say that an email is wrongly considered potentially dangerous.
To avoid loss of emails, if an email is blocked in quarantine, you will receive a summary email from quarantine@messaging.microsoft.com giving you some information (sender, subject, date) :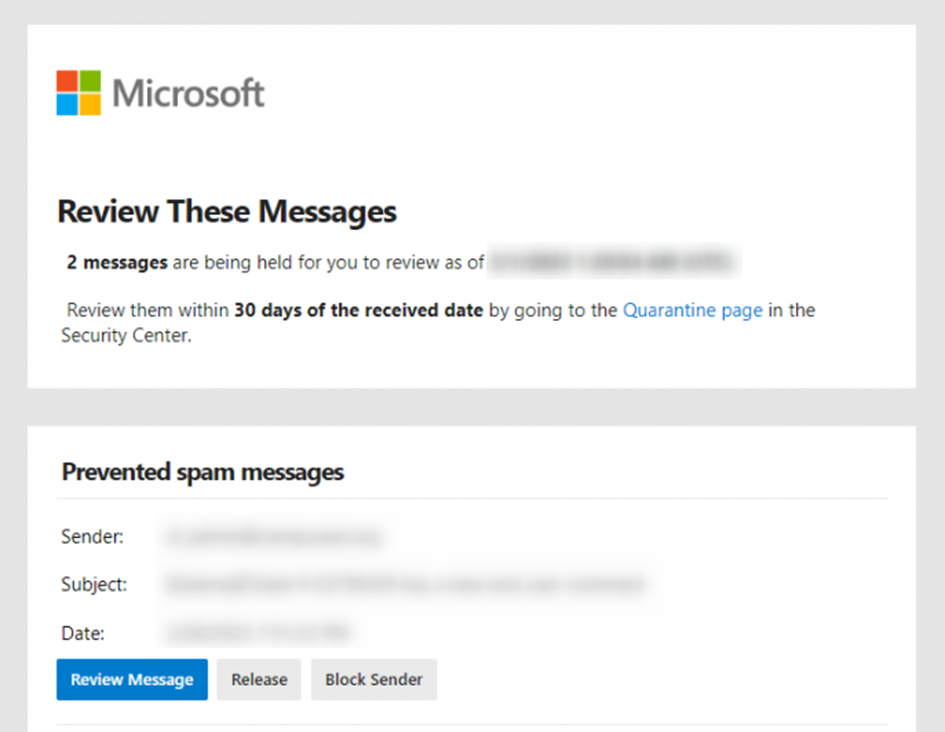 Three actions are possible :
You can review the message to get more information about the email (including viewing a preview of the message).
Release the message if you consider it legitimate. It will arrive in your inbox.
Block the sender if you find it unwanted. This will send messages from that sender directly to quarantine.
Quarantined emails are kept for 30 days. After that, they are automatically deleted.
--------------------------------------------------------------------------------------------------------------------
Votre boite mail Rennes SB est protégée par des mécanismes de sécurité de Microsoft qui peuvent mettre en quarantaine les mails jugés comme dangereux ou indésirables.
Ces mécanismes peuvent remonter des faux-positifs, c'est-à-dire qu'un mail est considéré, à tort, comme potentiellement dangereux.
Pour éviter des pertes de mails, désormais, si un mail est bloqué en quarantaine, vous recevrez un mail récapitulatif de quarantine@messaging.microsoft.com vous précisant quelques informations (expéditeur, objet, date) :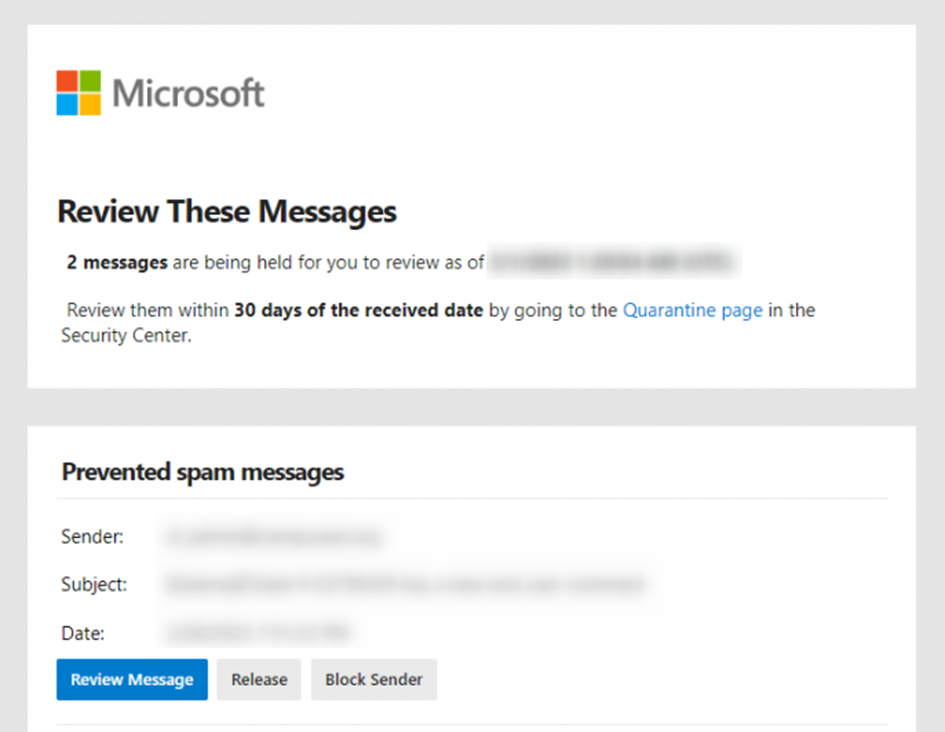 3 actions sont possibles :
Vous pouvez passer en revue le message pour obtenir plus d'informations quant à l'email (notamment afficher un aperçu du message).
Libérer le message si vous le jugez légitime. Il arrivera alors dans votre boite de réception.
Bloquer l'expéditeur si vous le jugez indésirable. Cela enverra directement les messages de cet expéditeur en quarantaine.
Les messages en quarantaine sont conservés pendant 30 jours.
Au-delà, ils sont supprimés automatiquement.