The self-service restaurant and cafeteria (Convivio)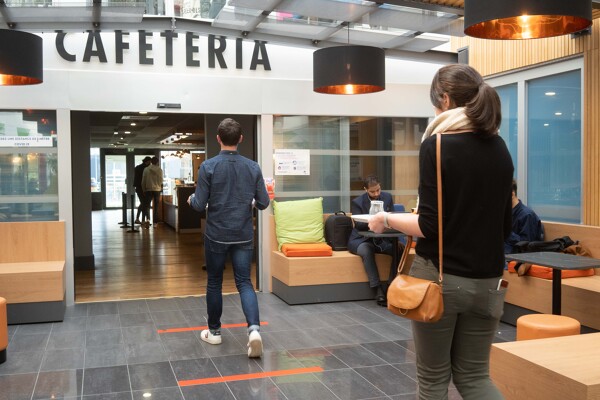 In addition to the classic catering service, you will be able to discover the following services:
A tray scanner to streamline checkout at the self-service counter
A range of fresh and homemade products in connected refrigerators in Building 1 and in Building 3
A "click&collect" service enabling you to reserve a takeaway menu before 10 a.m. and collect it from Building 3
As part of our CSR approach, we'll be asking you to sort your waste after lunch and deposit your trays in the designated areas. Trays will be disposed of directly on sorting tables in the dining room.
You'll also be able to choose takeaway dishes with returnable containers, which will be disposed of via the web app. A "Drinks Fabrik" is also available to reduce the use of plastic bottles and cans (don't forget your water bottles).
To pay for your meals, you can either pay by credit card at the cash desk, or create and load your own client account via a web application (scan the QR code in the document below or click on the following link https://ewallet.innovorder.fr/2205/home).
Below is a presentation of Convivio's offer.
"Bon appétit!"