HOW TO PREPARE MY APPLICATION?
First of all, you will be contacted by your Exchange Coordinator at Rennes SB or your partner university. Then, the application process depends on each partner university.
For some, the application has to be done by email and you will have to send your documents to both Exchange Coordinators (at Rennes SB and the Host University).
For others, you will have to apply directly using an online platform.
Finally, some others opt for a paper-based application.
| | |
| --- | --- |
| | Please keep your Exchange Coordinator at Rennes SB up to date with the status of your application at every step. |
Which documents

might I have to submit?

Each university has its own application procedure according to its own national laws. The documents that you are required to provide are often listed on a checklist sent by your Exchange Coordinator at Rennes SB or on the application form itself.

While waiting for this list, find below the most frequently required documents :
| | |
| --- | --- |
| Copy of your passport | If you submitted a récépissé on Rise, remember to upload your passport once you receive it in order to update your profile |
| Copy of your ID card | |
| Transcript(s) of record / bulletin de notes | It is important to send the most recent transcript you have. Partner universities might ask for a transcript that has been translated into English. Available on RISE. |
| Learning Agreement / Contrat d'études | Course selection for your exchange semester. See below for more information. |
| Financial/bank statement | Official certificate from the student's bank stating that the student has a specific amount in their bank account. To be written in English. |
| Letter of recommendation / Academic reference | You can ask one of your professors for this document; plan ahead, as it can take some time. |
| Personal statement / Letter of motivation / Study plan | Letter of motivation and global presentation of the student. |
| CV | To be written in English and sometimes in Spanish. |
| Copy of Official Language Test | Full and clear copy of official language score report (including the back of the document). |
| Certificate of language proficiency | Your Exchange Coordinator at Rennes SB can provide you a certificate indicating a B2 level in English / indicating your level in LV2 based on your grades. |
| Medical certificate | Official medical report stating good, physical and mental health of the student. To be written in English. |
| Certificate of enrolment / Certificat de scolarité | Document stating you are registered at Rennes SB, your level of study and date of enrolment. Available on RISE. |
| Nomination letter / Confirmation letter | Ask your Exchange Coordinator at Rennes SB. |
| Copy of health insurance | Stating you are covered during your exchange period abroad. |
What other aspects of the exchange should I look into?
Please check the step 3 where you will find all the answers to the questions you might have about how to prepare your departure (transport, grants, visa, accommodation etc...)
HOW SHOULD I SELECT MY COURSES?
WHEN SHOULD I CHOOSE MY COURSES?
This also depends on the organisation of your Host University. For some, the courses are selected during the application procedure, for others, after being officially accepted or upon arrival. You will be informed of the necessary steps by your Host University and/or your Exchange Coordinator.
WHICH COURSES CAN I CHOOSE?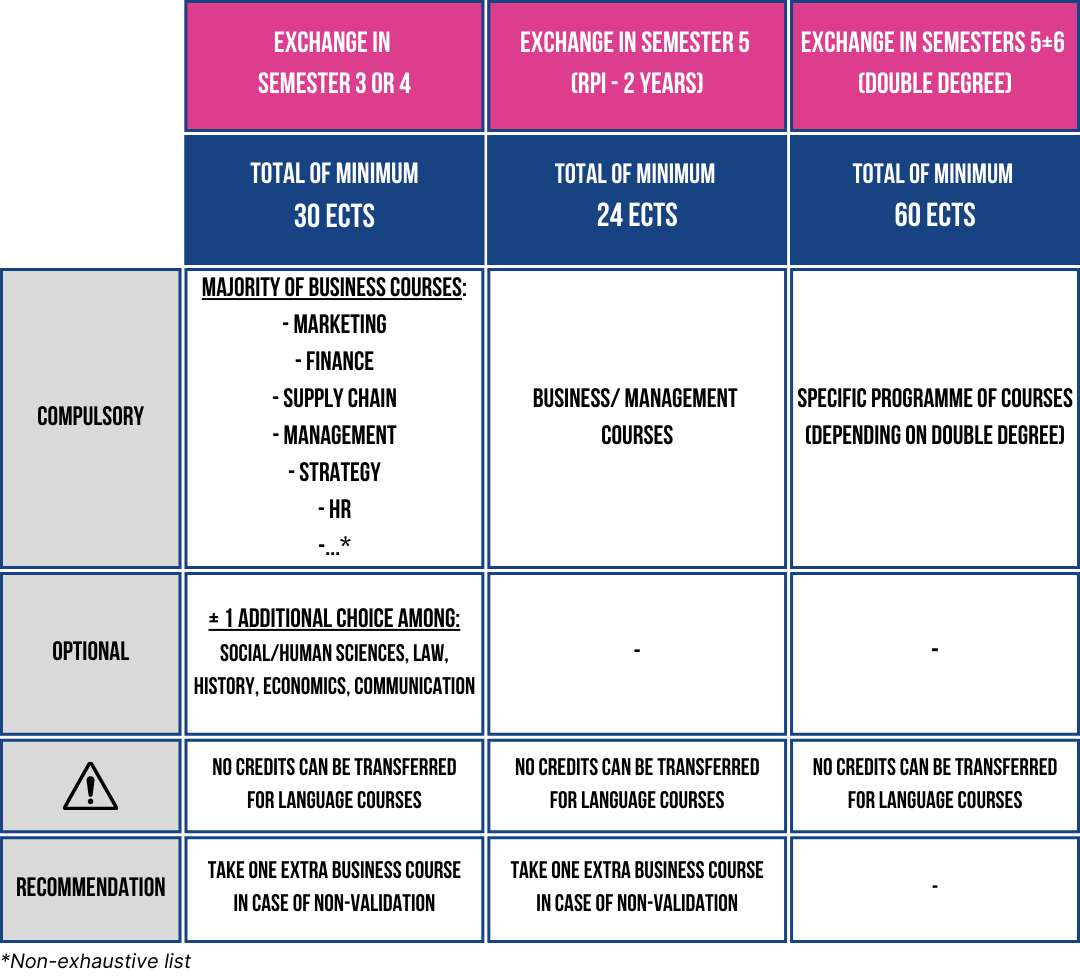 N.B 1: For an Exchange in Semester 3 or 4, you must choose 30 ECTS per semester. The optional course can help you reach the 30 ECTS knowing that the majority of the courses must be related to Business or Management.
N.B 2: You are not allowed to take courses in French or courses you have already followed at Rennes SB.
WHAT IS A LEARNING AGREEMENT?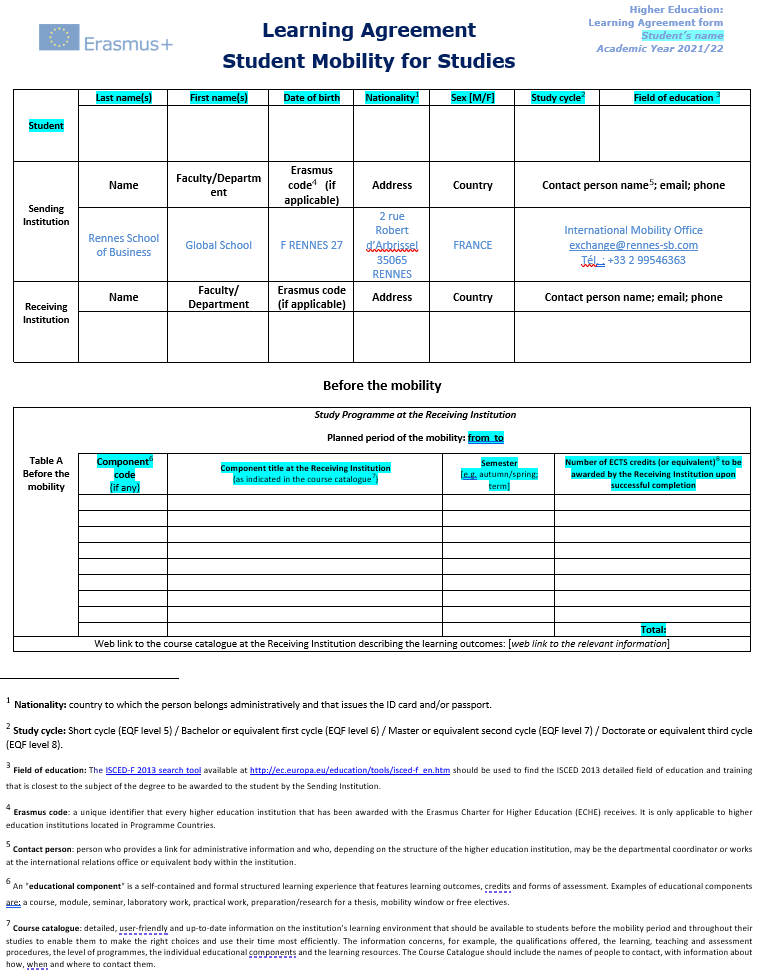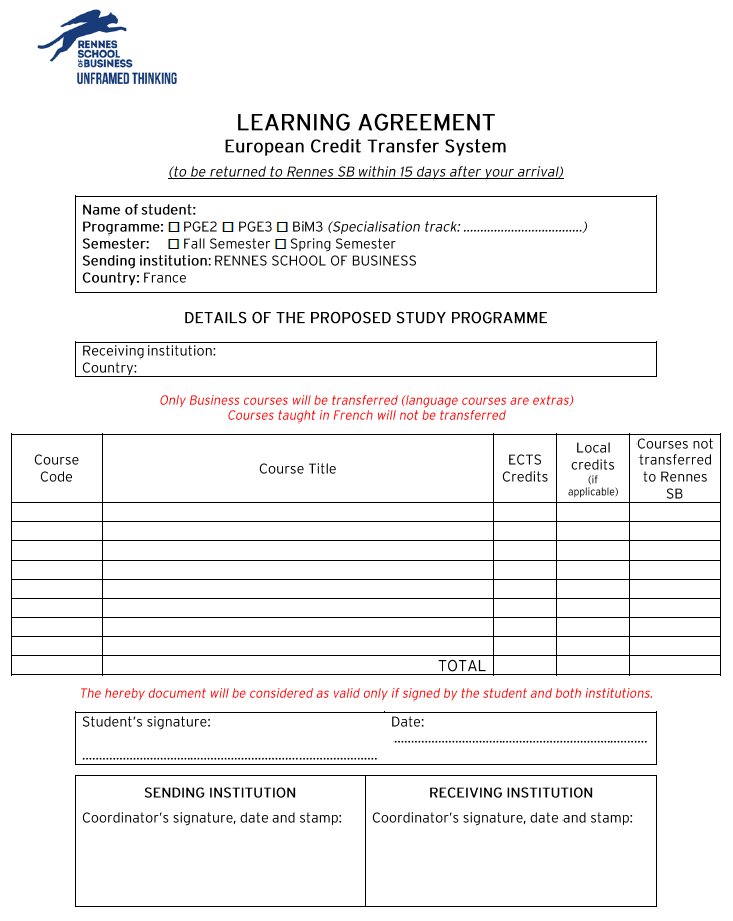 This is a study contract between you, Rennes SB and the Host University: it allows you to validate your choice of courses at the start of your semester abroad with both the Host University and your Exchange Coordinator at Rennes SB. You must take the courses that are listed in the Learning Agreement.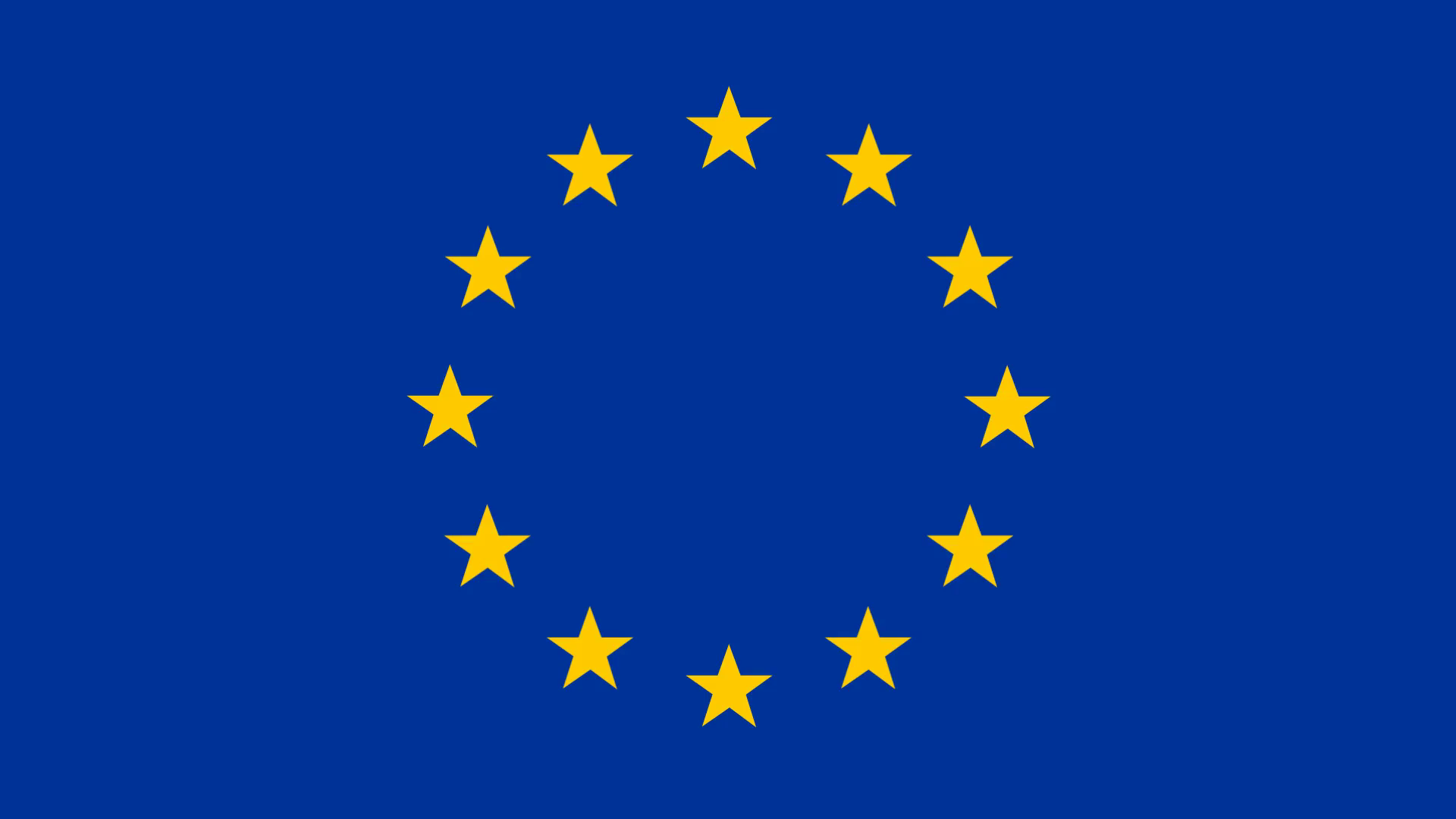 /!\ Specific information for exchange students in Europe

The management of Learning Agreements is currently changing in Europe and will gradually move from a paper version to a digital version. Some partner universities have already adopted this new method which consists in filling in your learning agreement directly on an online platform called Online Learning Agreement (OLA). If, during the application process, your host university asks you to use this online method, please refer to your Exchange Coordinator at Rennes SB in order to get instructions on how to do it.
IF, AFTER ARRIVAL, I NEED TO CHANGE THE COURSE LIST ON MY LEARNING AGREEMENT. HOW SHOULD I PROCEED?
In some cases, you might have to change your course selection upon arrival. Any changes have to be approved by your Exchange Coordinator at Rennes SB and the Host University using the second page of the Learning Agreement document.
HOW MANY ECTS CREDITS DO I NEED TO VALIDATE?
Exchange in semester 3 or 4:

30 ECTS / semester
Exchange in semesters 5 + 6 (Double Degree):

60 ECTS / year
Exchange in semester 5 (Work-study pathway - RPI (2 years):

24 ECTS / semester
For more details, see above.
MY EXCHANGE WILL BE OUTSIDE OF EUROPE. HOW WILL I OBTAIN THE ECTS CREDIT
EQUIVALENCY
?
The equivalence of your credits will be communicated to you by your Exchange Coordinator and/or your Host University.
ANY OTHER RECOMMENDATIONS?
While you wait for your acceptance, please:
DO NOT

directly contact the partner university: your Exchange Coordinator at Rennes SB remains your main contact person up until you receive your acceptance letter from your host institution

DO NOT

reserve your plane tickets or accommodation: the semester dates will be specified in your acceptance letter