Do I have a Microsoft 365 license as a Rennes SB student?
Yes, every student from the Rennes School of Business has a Microsoft license.
You do not need an activation key, but simply your school's email address.
This gives you access to the Microsoft 365 apps like Word, Excel, Outlook, PowerPoint and others.
What do I need to install the Microsoft 365 apps ?
A computer with Windows 10 or Windows 11.
or
A Macbook with MacOs 11 (Big Sur) or newer.

Please note that Chromebooks and tablets (Samsung, iPad, etc.) are not supported.
How to download and activate my Microsoft 365 license?
1) Click on this link : office.com to open the home page of Microsoft 365.
Click on the "Sign In" button and enter your Rennes SB school's credentials.

2) Once you are signed in, you have access to every application in their web version on the left column.
To download all the apps on your computer, click on "Install apps".

3) Open your downloads and click on the saved "OfficeSetup" file to execute and install it.
A pop-up might open, make sure you "Authorize this application to bring modifications to your computer" by selecting OK.

4) Finish the installation process by starting one of the apps (Word, Excel, or Powerpoint) and sign in with your Rennes SB e-mail address: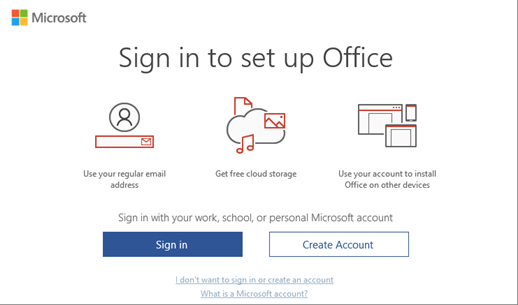 5) The activation will be done after the sign in process.
Lastly, close the app, restart your computer, and you are ready to use all the Office apps on your computer with your school license.